Welcome to friendly Kazakhstan!
Also to the Kazakh border post we had to crest a hill and then we were standing sweating in front of the Kazakhs. The entry was no problem and soon we heard "Welcome to Kazakhstan!"
Then we exchanged our lots of roubles to Kazakh tenge where we lost about EUR 40…well, it's our own fault, we were perfectly prepared as usual. 😀
For our first tenge we bought some breakfast at the first cafe we saw. Then we headed towards Uralsk on the bumpy road. And then in the midday heat it happened again: Alexandra had another flat tire, once again at her back wheel. So, quickly patched and then it could go on. At a gas station in Taksala we had some delicious cabbage hot dogs, an employee gave us some ice cream as a present and everybody wanted to take a photo with us.
In general our first day in Kazakhstan was full of friendly people who are not afraid to talk to foreigners. Once when we had a break a car stopped and the driver asked if there was a problem and if he could help. Wow!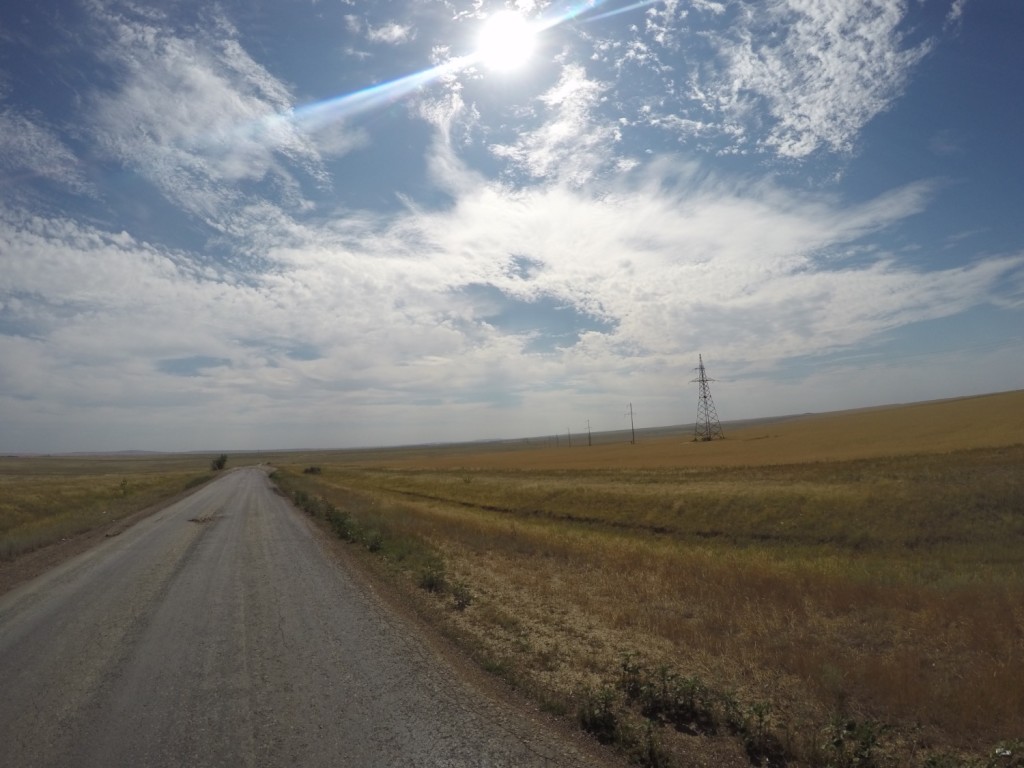 Then around 6:30 in the evening we had arrived in Uralsk. There we talked to a security guy in front of a shop who was kindly enough to let us call our hosts from his mobile phone. This man called Valeri really was a friendly and funny guy, although we were a bit perplexed when he asked us: "What do you think of Putin?" "Well", we said, "we don't really have an opinion about Putin, you know, Austria is neutral." And then Valeri explained to us that Putin is great and Obama and the EU are very bad while we were just listening to him without saying anything.
Soon Viktor and Yana arrived in a small delivery van and took us and our bicycles with them to the a bit remote house. It was like paradise there, a summer resort house with a beautiful garden. We nearly forgot that we got there on our bikes! In the summer kitchen with arbour we had snacks, drinks and nice conversations with Viktor, his wife Jelena and his mother-in-law Valentina (?), a former English teacher who took over the role of Google Translate.
Actually it was very important to Viktor to help us as he saw kindred spirits in us. About ten years ago Viktor travelled around 500 km through the Ural on his skis and was helped by local people. Now he wanted to play this role for us.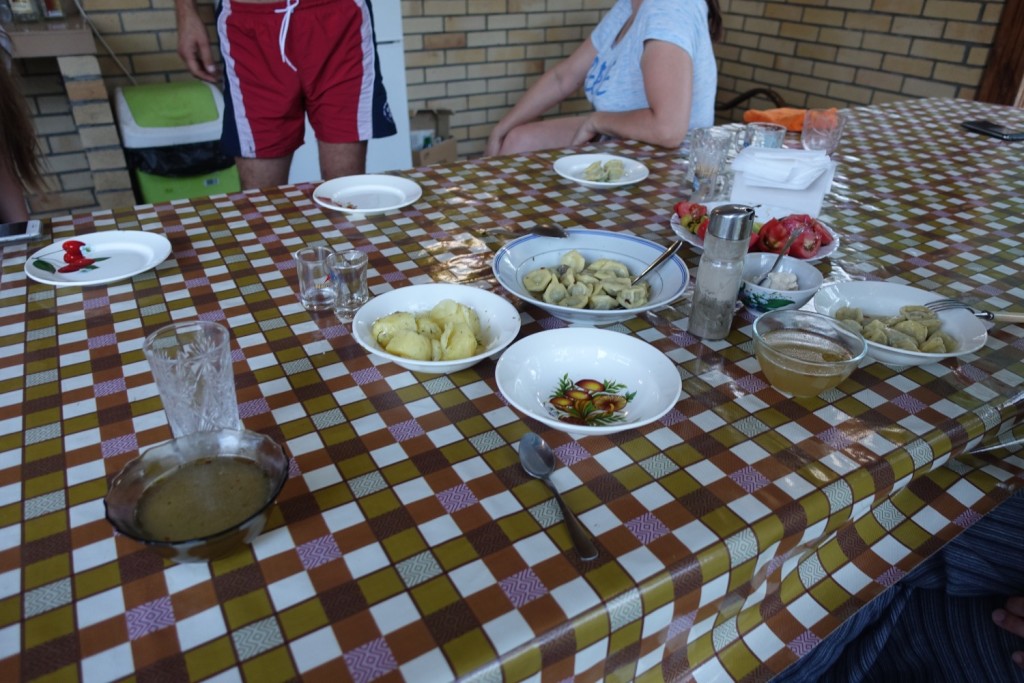 Although our direct conversation with Viktor was a bit difficult, our hearts understood each other pretty well. Several times we all clinked our glasses to our acquaintance, that evening Viktor thought of the Vodka to be "very good"! 😀 And then suddenly he handed over some cycling jerseys from the Team Astana which he gave to us as a present.
After a wunderful evening and a comfortable night in their guesthouse we could eat freshly made (and the best so far) blini from Viktor's cafe. Afterwards he drove with us to register us which needs to be done within five days. With an incredible patience Viktor filled in all the forms for us and talked to the officers, so that we only had to wait. It is unbelieveable what this man has done for us! Thank you so much!
Then in the afternoon we said goodbye to everyone and the grandmother gave us a few bags full of vegetables from their garden. Also we exchanged phone numbers and email addresses, as Yana and Polina are studying in Prague and might come visiting to Austria. Viktor then brought us with his car to the end to Uralsk (which is why we crossed the Ural, the border between Europe and Asia by car) and after some further photos and hugs we finally stood there alone, in this country which was still completely unknown to us.