Would you like it a bit more touristy?
After we had already stayed in Ao Nang / Krabi much longer than we had planned, we proceeded towards Phuket in a minivan. In theory, we could have left for one of the eastern Koh islands too, but the monsoon should be there at the moment.
Actually, the Thais are used to (masses of) tourists for years/centuries now, but still they are arranging things badly. One ore more parties are taken from their hotels to a small kind of bus terminal where they get a tag with their destination. Then you have to wait in the heat for one or more hours until the actual bus leaves. Until then umpteen times people are walking through yelling out the destination of the next bus, but they don't seem to be able to read themselves. As the farang (Westerners / tourists) cannot understand what they are yelling, one of the ladies who can speak English a bit has to walk through yelling again. As you are mostly not sure what that has meant you have to ask several times if that was your bus now. Phew, exhausting. Although the Chinese are not used to Western tourists, we had no problems to find our way in China – they just are soooo much better organised!
Shortly after we had reached the area of Phuket we had to leave the minivan for a tourist agency. There some of our Croatian passengers were about to argue with the Thais aggressively: They told to have paid for a ride to the city center but the Thais wanted them to pay another 2/3 of the former price to take them there (oh yeah, the price relationship here is ridiculous). Phew, we were already prepared to pay again but we had only to tell the name of our hotel and they would take us there directly, without paying extra.
As the Croatians were still resisting leaving staying outside of the city center as well as paying more, the Thai driver was about to get rough… When two such spirited parties meet there's gonna be action! Obviously, the Croatians didn't care that one should better not mess with Thais.
Finally, they accepted to leave the minivan next to a taxistand but not without leaving some "jebem ti mater". 😉
When they had left the driver was smiling again and apologized for the inconvenience while making fun of the Croatians. Hmm, something's fishy about those Thais, to be honest.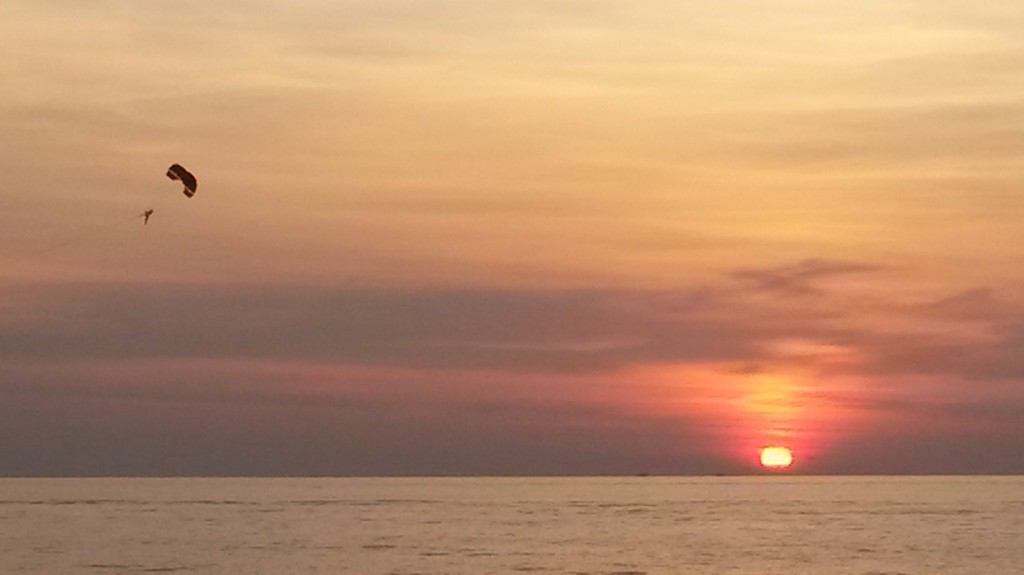 In Phuket we stayed in Karon as some French guy told us this should be the less visited and therefore more quiet part there. However, we were not that fond of Phuket. We had to walk up to 2 km to the nearest beach but for only 500 m there was a sidewalk, therefore we mostly had to try to not get hit by a motorbike or truck. All the time Thais are yelling "massaaaage, massaaage, welcoooome, wann eat something, misteeeer? Come iiiin! etc." – soooo annoying! We have never seen such a mad thing like here in Southern Thailand before, the horror!
A lot of Russian stay in this part of Phuket, for that reason many things are written in Russian as well. Brought back some memories of our cycling trip. 😉
The beach itself in Karon was pretty okay as there were not that many people as we had feared and finally some big waves! Unfortunately, again Alexandra got herself a little rash…
On one day at the beach we also observed something interesting: Suddenly a Thai guy started yelling into the sea until finally some Russians walked out of it. The Thai acted very furiously, one Russian guy acted as if he didn't know what was happening and one Russian woman just made fun of the Thai. And suddenly two other Thais were running into the scene and together they kicked the Russian guy into the stomach – fortunately, he didn't defend himself and just went away. We have no idea what had happened exactly but one thing we know for sure: You cannot argue with Thais and not only because of the language barrier but because they go berserk immediately – that's what we could see so far.
To be honest, we didn't do a lot in Phuket, on one hand because everything's rather expensive, on the other hand because we just weren't in the mood for it – we missed our bicycles a lot! What we did enjoy was the 3 m deep hotel pool, the pool table, the sea and beach, watching series and searching for inexpensive food. 😉